Asia accounts for more than 65% of total global steel use and its populations and economies continue to rise in the near future, which is why Asian steel suppliers are currently the world's leading companies in the industry. Each Asian country is expanding into the international market with different export strategies in order to increase their shares. China is diversifying export products and destinations for its bulk supply of steel products. Japan and Korea are moving forward with investment in high-quality steel production, and Korea is also gearing up to meet demand through overseas downstream investments. In addition, they are becoming more and more competitive thanks to their adapting to the technological changes, smart factory solutions to create stronger products and reasonable pricing strategies. Here is the list of top 100 steel suppliers in Asia, and this list is being updated regularly.
Best steel suppliers in Vietnam
Chinh Dai Steel
Chinh Dai Industrial Company Ltd. was founded in 2000, is a private-owned steel company in Hung Yen, Vietnam. Chinh Dai, which is among the largest steel suppliers in Vietnam, produces 200,000 tons of steel a year. They specialize in manufacturing and trading in iron, steel, metal, steel pipe for the industry, household and construction.
After 17 years of continuous expansion and innovation, Chinh Dai steel has become one of the leading steel pipes manufactures in the region with the presence in many large-scale projects. With a pioneering spirit for the past years, their mission is to bring international customers high-quality products with competitive price and best service.
Visit their website!
Reliable steel supplier
With world-class quality, Chinh Dai Steel products present in many markets such as India, Laos, Myanmar and other Southeast Asia countries and gradually satisfy the fastidious market like Australia. The Chinh Dai Steel gather full of world standards of steel including: US-ASTM A500 Certification, Japanese Standard Certificate JIS G, Australian Standard Certification AS / NZS, ASTM International Standard. They have strong customer relationships with many reputable partners such as Toyota, Thyssenkrupp, Mitsubishi, Samsung,…
Read more: Chinh Dai Steel's Partnerships.
Professional steel export team
Having over 10 years of experience exporting steel products to fastidious markets all over the world, Chinh Dai's export team has always been proud of their deep knowledge, practical skills and positive attitude. They have worked with various of big partners and satisfied even most difficult customers.
Read more: Chinh Dai Steel's Export.
Competitive pricing
Being provided with a closed production line system equipped modern technology from Europe, Japan, Korea, Taiwan, Chinh Dai steel always ensure the best quality along with the most competitive price. They apply seven technology steps, modern machinery and advanced technology contribute to save energy and reduce production costs.
Read more: Chinh Dai Steel's Quality Certifications.
Flexible arrangement for customers
Chinh Dai is one of those steel suppliers that allow customers to order their specific type of products: steel tubes of various thickness, special steel end products such as cattle fence and truss,… Chinh Dai is able to arrange to the meet customers' needs depending on their own requirements. They are also flexible in the services including delivery, working time, communication,…
Read more: Chinh Dai's Products.
#1 supplier in steel end product
Chinh Dai also specialize in steel end product including cattle fence, truss, … They are exporting many special-ordered products to international markets and being well-known for their aesthetic value and durability. Australia and Germany market specially appreciate the cattle steel fence products from Chinh Dai Steel and the company is about to broaden their international market and widen their range of products.
Read more: Chinh Dai Steel's Special Products.
Get a FREE Quote for Chinh Dai's Product now!
Best steel suppliers in China
China is the largest steel-producing countries in the world
China Baowu Steel Group – The largest steel supplier by volume in Asia
China Baowu Steel Group Corp., Ltd. is a state-owned steel company headquartered in the Baosteel Tower in Pudong, Shanghai, China. Baosteel is the fifth-largest steel supplier in the world measured by crude steel output, with an annual output of around 35 million tons. It has annual revenues of around $21.5 billion, and suppliers a mix of products. A plan to merge with Wuhan Iron and Steel Corporation was announced on 21–22 September 2016, which would make the combined production volume the second highest in the world (34.938 million + 25.776 million), after ArcelorMittal (97.136 million in 2015), surpassing Hesteel Group (47.745 million in 2015).
Since Baosteel Group and Wuhan Iron and Steel Corporation also announced targets of cutting 3.95 and 4.42 million metric tons production capacity respectively in June and July 2016, and a further cut for Baosteel Group of 2.10 million while a 3.15 million cut was already planned the final ranking may still significantly change. The IPO of the subsidiary of Baosteel Group on the Shanghai Stock Exchange in 2000 was the largest in China up to that time, raising CNY 7.7 billion despite being limited to domestic investors only.
Baosteel Co., Ltd. sticks to the development road of "innovation, coordination, greenness, openness and sharing", and possesses the world-renowned brand and the world first-class technical level and service capability. The company attaches great emphasis to cultivating its innovation capacity, actively develops and applies the advanced technology for manufacturing, energy-conservation and environmental protection, and has established the marketing, processing and service network with nationwide coverage and worldwide involvement. Its independently developed new generation high strength automotive steel, oriented silicon steel, high grade steel for household appliances, oil gas pipes, steel for bridge, hot-rolled heavy rail and other high-end products reach the world's advanced level.
– Ranking: 2
– Steel products: Hot Rolled Steel, HR Steel Sheet (Pickled), Cold-rolled, Cold Rolled Steel Sheet, Galvanized Steel Sheet Galvanized Steel Sheet, Prepainted Steel Sheet, Tin Plate and TFS(ECCS), Electrical Steel Sheet, Heavy Plate, Pipe & Tube, Bar & Wire Rod
– Volume of steel production: 95.5 millions of tonnes.
Hesteel Group  – One of those steel supplier providing the widest range of steel products
Hesteel Group Company Limited is a Chinese iron and steel manufacturing conglomerate, also known as Hesteel Group or its pinyin shortname Hegang. Hesteel Group is the second-largest steel supplier in the world measured by crude steel output (after European-Indian conglomerate ArcelorMittal) in 2015, according to the World Steel Association. Hesteel Group had a second-tier subsidiary listed at the Shenzhen Stock Exchange, Hesteel Company, which is controlled by the direct subsidiaries Hansteel Group and Tangsteel Group of Hesteel Group. Hebei Iron and Steel Group Co., Ltd. was established on 30 June 2008 by the merger of Tangshan Iron and Steel Group and Handan Iron and Steel Group of Hebei Province.
The Group encompasses over 30 subsidiaries with 120,000 employees enrolled. Centering on steel making, they are also involved in mineral resources, financial services, modern logistics, iron & steel trade and equipment manufacturing. In 2016, their operating income stood at 290.8 billion RMB and year-end total assets 360.4 billion RMB. It ranked 221th among the global 500. The group got "highly competitive" — the highest rating of Report on the comprehensive competitiveness of Chinese iron and steel enterprises in 2016. Now HBIS is the member of World Steel Association's Executive Committee and the rotating Presidential Enterprise of China Steel Association.
HBIS Group has established a significant presence in steel industries home and abroad. They boast the world-class processing facilities, thereby laying a sound foundation for us to manufacture products that can only be imported in the past and to facilitate upgrading of high-end products. Their major products cover all types except for seamless steel pipe, making us the steel maker with the widest range of products. A number of products such as cold-rolled sheet, high-strength rebar, wide and heavy plate, steel pipe and special steel bar enjoy a great reputation in both domestic and overseas market.
– Ranking: 3
– Steel products: Hot rolled strip for automobile, Hot rolled strip for oil pipeline, Hot rolled strip for hull structure, Hot rolled weathering strip, Hot rolled carbon structure steel strip, Hot rolled quality carbon steel strip for export, Hot rolled quality tool steel strip, Hot rolled strip for cold forming, checkered steel strip, Hot rolled electrical steel strip, Hot rolled strip for welded gas cylinder, Hot rolled strip for spring, hot rolled enamel steel strip, hot rolled strip for electrical power pipe, hot rolled strip for pipe
– Volume of steel production: 63.8 millions of tonnes.
Jiangsu Shagang – the largest privately owned steel company in China
Jiangsu Shagang Group Company Limited is located in Zhangjiagang, Jiangsu, China, an Economic Development Zone of the Yangtze River. According to a 2008 survey conducted by the All-China Federation of Industry and Commerce (ACFIC), the company was the largest privately owned company in China at the time. It involves the production and sales of "Shagang" brand name steel products. At the end of 2007, it employs over 26,700 staff, covers an area of 10 km2, and has total assets over RMB100 billion Yuan.
The company drew the world's attention in 2001 when it acquired a steel mill (the Dortmund-Hörde plant) from German industrial giant ThyssenKrupp for 30 million euros and shipped its equipment to China where it was reassembled and resumed operation. Due to ongoing overcapacity within the steel sector, Jiangsu Shagang Group purchased two internet data firms for $3.8 billion, as part of an attempt to expand into new industries for diversification. The June 2017 deal targets Jiangsu Qingfeng Investment Management Co. Ltd. and Beijing Daily Tech Co. Ltd.
Iron and steel are girding China's economic development, and Jiangsu Shagang is big part of that process. The company processes some 18 million tons of iron annually in order to roll out about 23 million tons of steel each year, making it one of China's top-five steel supplier. Jiangsu Shagang's product line includes rebar, wire rods, slabs, and hot-rolled coils. In addition to iron and steel, Jiangsu Shagang produces stainless steel and zinc-plated steel sheets. Since 2006, the company has acquired four smaller, rival steel companies, and it now ranks as China's largest private steel supplier.
– Ranking: 6
– Steel products: Wide and Heavy Steel Plate, Hot-rolled Steel Coil, Cold-rolled Steel Coil, Wire Rod, Rebar, Rods and Bars, Steel Strand, Welded Steel Pipe, Special Steel Billet.
– Volume of steel production: 33.3 millions of tonnes.
Ansteel Group – focusing on high-end steel products
Anshan Iron and Steel Group Corporation (Ansteel Group in short; less popularly Angang Group) is a Chinese state-owned steel maker. The corporation was under the supervision of State-owned Assets Supervision and Administration Commission of the State Council. The corporation focuses on producing high-end products such as electroplating, color-coated, and silicon flat steel products to make car bodies and computer and telecommunications equipment.  Anshan Iron and Steel production base is located in Anshan City, Liaoning Province, the main factory area of about 24 square kilometers, east of the railway, west of Shenyang-Shenyang Expressway, south Anshan Anshan West Road, north of Anshan Shahe, Anshan Iron and Steel Mining companies in Anshan, Liaoning Gongchangling area has seven large iron mines.
At present, Anshan Iron and Steel has formed a large iron and steel enterprise group composed of sintering, pelletizing, ironmaking, steelmaking and rolling comprehensive support, as well as auxiliary units such as coking, refractory, power, transportation and technology research and development. Formed from the hot-rolled plates, cold-rolled plate to galvanized sheet, cold-rolled silicon steel, heavy rail, seamless steel pipe, profiles, building materials and other complete product line.
The company has rewarded ISO9002 quality system certification, marine steel passed the certification of Class 9 Society of Shipping, the petroleum pipe passed the API certification, the construction material has obtained the CE Mark Certificate of British Lloyd's, and the steel body passed ISO14000 Environmental Management System Certification and OSHMS Occupational Safety and Health Management System Certification. Comprehensive competitiveness of enterprises into the ranks of the international advanced enterprises, significantly enhanced the international influence. The main production technology and equipment reach the international advanced level. At present, Anshan Iron and Steel with an annual output of iron, steel, steel 25 million tons of capacity.
– Ranking: 7
– Steel products: galvanized steel products, Plate Steel Products, Caitu Products, Cold rolled products, Hot rolled products, Cold-rolled silicon steel products, Seamless steel pipe products, Wire steel products.
– Volume of steel production: 33.2 millions of tonnes.
Shougang – the supplier of superior steel
Shougang Corporation also known as Shougang Group was established in 1999 and listed on the Shenzhen Stock Exchange in 2005. The predecessor of corporation, the Shijingshan steel plant was founded in 1919 in modern-day Shijingshan District, with accelerated growth since the founding of People's Republic of China. As China reformed and opened itself to the outside world, as one of the core corporations in China, Shougang developed itself as well. Shougang focuses its business mainly on steel industry, the corporation also runs on mining, machinery and equipment development, electronics, building, real estate, and related services, in addition, they also developed business with overseas companies in order to form Shougang as a leading multi-diverse corporation.
Although the corporation is facing more and more challenges as time goes by, the company made several big changes in order to solve the competition problems. It changed its organization chart and improved its products and services and provided itself a sustainable competitive advantage compares to other companies in steel industry.
Shougang Corporation made a significant contribution to Chinese economy and steel industry development. It paid accumulate more than 57,600,000,000 yuan for Chinese taxes. It finished applications for 52 patents and get national authority patents. The company is good developing superior products. Their products are dominated almost one thirds of Chinese market within steeling industry. They has more than fifty years of experience in building and construction industry. The company specializes in steel structure installation, industrial equipment inspection, concrete-made products sales services. The company also provides rental for equipment, construction materials development and sales. Shougang is rewarded for fourteen Chinese national awards for high-quality construction projects.
– Ranking: 9
– Steel products:  hot-rolling steel , and cold-rolling steel, automotive steel sheet, pipeline, pressure vessel steel, and shipbuilding steel.
– Volume of steel production: 26.8 millions of tonnes.
China steel production in recent years
Shandong Iron and Steel Group – steel supplier with the principle of scientific development.
Shandong Iron and Steel Group Co Ltd, commonly known as Shandong Steel, is a Chinese steel company based in Jinan. In 2009, it took a 67% stake in Rizhao Iron and Steel. SISG is controlled by the provincial government of Shandong. SISG was formed in March 2008 when the provincial government of Shandong merged two state-owned steel suppliers. Shandong Iron and Steel has a registered capital of 10 billion yuan ($1.4 billion) and is fully state-owned. Since its establishment, SISG has always stuck to the principle of scientific development, and the implementation of the national policies on the iron and steel industry.
Based on the guidelines of "restructuring assets, upgrading outmoded equipments, adjusting overall structures, and improving quality" put forward by the provincial government, SISG has established and implemented the strategies of "highlighting the coastal areas, improving the mainland areas, and laying equal stress on quality and quantity". Under this context, SISG has set up a research institute, a finance company, and five business centers, namely the capital center, purchase center, sales center, operation center and information center. Having gone through a substantive restructure in production, supply, marketing, personnel, properties and materials, SISG is extending its industrial chain to the mining industry upstream and the steel-consuming enterprises downstream. Construct the steel machining distribution center positively. As a major production base of steel plates (4.5-25.0mm) and H sections, SISG has always been focusing on the production of high-end, high-quality and efficient products. The main steel products of SISG include plates (4.5-25.0mm), hot-rolled coils, cold-rolled coils, H sections, high-quality steel, special steel, hot rolled ribbed bars, etc.
SISG has always emphasized on scientific innovation and talents. SISG has also set up some other research institutes and research centers, such as a national technology center, a national quality inspection center, a post-doctoral research center, an academician research center, an H-section research center, a wide-and-thick plate research center, a research center of energy and environmental engineering, etc.. The Iron and Steel Research Institute provides a solid platform for the integration of inner and outer innovative resources.
– Ranking: 11
– Steel products: steel bar, plate steel bar, hot-rolled steel strip, cold-rolled strip.
– Volume of steel production: 23 millions of tonnes.
Maanshan Iron and Steel Company – the steel supplier known as th

e "flower of Jiangnan"
Maanshan Iron & Steel Company Limited is China's ninth largest steel supplier after Baosteel Group and Wuhan Iron and Steel Corporation. Set along the banks of the Yangtze River in Ma'anshan, Masteel is known as the "flower of Jiangnan. Masteel turns out 8 million tons of steel annually, 80% of which are of international grade (the remainder is used in-state). Maanshan was developed "into a medium-scale integrated iron and steel complex", starting in 1958 under the Second (five-year) Plan. Its H-beams, plates, wheels, and wires are exported to nearly 50 countries worldwide. The company also makes wheels for locomotives. Formerly a subsidiary of Magang (Group) Holding Company, Masteel was spun off in 1993 and today is publicly traded on the Shanghai and Hong Kong stock exchanges. It has 44,104 employees as of December 2007.
The Group's principal activities are the manufacture and sale of iron and steel products. The production process of the Group mainly comprises cooking, sintering, iron smelting, steel smelting and rolling. The principal steel products come in four major categories: steel sections, wire rods, medium or thick steel plates and train wheels and tyres.
It imports machinery and raw materials and exports steel products. It is also involved in the planning and designing of automation system, metallurgical, construction and environmental protection projects. Its iron & steel business is mainly engaged in ferrous metal smelting and rolling processing and product sale and support services. Masteel owns the top production lines in the world for thin strip cold-rolling and thin strip hot-rolling, strip hot-galvanizing, strip color coating, silicon steel, H-beam, high-quality wire & rod, train wheel, etc. A unique product catalog of "plate & strip, section steel, wire & rod and train wheel& tyre" has been formed in Masteel.
– Ranking: 14
– Steel products: hot-rolled strip, cold-rolled strip, galvanized strip, color-coated strip, ship plate, container use strip, electric steel, pipe steel, H-beam, old-heading wire rod, train wheel, railway wheel and tyre steel, bearing steel, spring steel, gear steel, tool and die steel, alloy tube billet, high quality ring steel, high grade cold heading steel, non-quenched and tempered steel, anchor chain steel, roller steel, steel for heavy castings and forgings, alloy structural steel.
– Volume of steel production: 18.6 millions of tonnes.
China is leading the world's steel industry in two recent years
Jianlong Steel – the largest private-owned steel company in Tangshan
Jianlong Steel is the largest private-owned enterprise in Tangshan, Hebei province with the output of crude steel 6.5 million tonnes in a year. Tangshan Jianlong Steel is a subsidiary of the large domestic private enterprise Beijing Jianlong Group.
It was established in 1999, is a large enterprise group mainly engaging resource exploitation, iron and steel production. In 2009, the holding enterprises of the group owned total assets of RMB 37.511 billion yuan, and reached the sales income of RMB38.189 billion yuan, the tax 2.277 billion yuan, the profits 1.818 billion yuan. Now, Jianlong Group is ranked the 74th among Chinese manufacturing enterprises, the 103th among top 200 efficiency of Chinese enterprises, the 153th among top 500 Chinese enterprises. The subsidiaries of Jianlong Group have spread in the provinces of Hebei, Heilongjiang, Jilin, Liaoning, Shandong, Zhejiang, Beijing, Tianjin, Hubei, Sichuan, Hongkong, etc.
Since its establishment many years ago, Jianlong Group insists on the enterprise spirit of From the little to the best, and inherits the enterprise value view of Integrity, regulation, teamwork, excellence and win-win. They sticks to customer first, refine on management-control, and updates the self-developed technologies, drives the scale expansion and continues the optimization and upgrade of product structure, emphasize Self-Benefit from benefiting others, sustainable development to realize group's rapid development through M&A and entering new business fields continuously.
– Ranking: 17
– Steel products: Rolled Steel Wire, Steel Round Pipe, Flange Plate, Thread Steel, Hot rolled steel strip, Hot rolled medium-wide steel strip.
– Volume of steel production: 16.5 millions of tonnes.
China Steel – a very active innovator in the steel industry.
China Steel Corporation is the largest integrated steel maker in Taiwan. Its main steel mill is located in Siaogang District, Kaohsiung. With annual production (in terms of crude steel) around 10 million tonnes, CSC produces a range of products including plates, bars, wire rods, hot and cold rolled coils, electrogalvanized coils, electrical steel coils, hot-dip galvanized coils, and Ti/Ni-base alloy. The domestic market takes roughly 69% of CSC's production and the exports take the remaining 31%. CSC is the largest steel company in Taiwan, enjoying more than 50% of the domestic market. Major export destinations are Mainland China, Japan and Southeast Asia.
CSC is very active in innovation and has strong capability to put the innovations into practice. The company's vision is "We aspire to be a trustworthy steel company of global distinction that pursues growth, environmental protection, energy saving and value-innovation." CSC actively puts into practice its corporate value of "teamwork, entrepreneurial approach, down-to-earthness and pursuit of innovation", as well as its operational beliefs of "promotion of social well-being, result orientation, implementation of teamwork, and emphasis on employees' self-realization." CSC keeps deepening the roots for its core business in steel, and is devoted to integrate the related downstream industries to foster healthy development and international competitiveness of Taiwan's steel related industry.
CSC was awarded the "National Quality Award" from the Executive Yuan (Cabinet) in 1991, the "Distinguished Innovation Accomplishment Award" from the Ministry of Economic Affairs in 2009; the only award of "Leading Company of Maintenance and Reliability KPIs Survey Project, 2013" from the World Steel Association and has been declared as the global industry leader in the steel sector by the Dow Jones Sustainability Index (DJSI) in 2013; the world steel industry leader and gold class distinction by RebocoSAM in 2014; inclusion in the FTSE4Good Index by FTSE Russell and declared anew as the global industry leader in the steel sector by DJSI in 2017. These achievements signifying that CSC's accomplishments in R&D, innovation, production, maintenance, and corporate social responsibility have long been acknowledged by the domestic and oversea industries and the public.
– Ranking: 19
– Steel products: plates, bars, wire rods, hot and cold rolled coils, electrogalvanized coils, electrical steel coils, hot-dip galvanized coils, and Ti/Ni-base alloy
– Volume of steel production: 15.5 millions of tonnes.
Valin Steel Group – a steel supplier with lean production system with zero defect quality management.
Hunan Valin Steel Co., Ltd. (SZSE: 000932) is a Chinese state-owned company based in Changsha. Founded in 1997, it is based in Hunan, and is primarily engaged in the smelting, manufacture and sale of iron and steel products, as well as nonferrous metal products. With a market capitalization of $2.3 billion in May 2015, the company was ranked #1,858 on Forbes Global 2000 list. Valin Steel distributes its products in domestic and overseas markets. As of December 31, 2008, Valin Steel had 12 subsidiaries, involved in smelting of steel and nonferrous metal products, trading of relevant equipment, as well as financing services.
Valin Iron & Steel has invested over 65 billion yuan in a series of technical revamping efforts to optimize technology, adjust product structure, save energy, reduce consumption and enhance competitiveness. The company has realized a series of technological transformations such as modernization of technology, large-scale equipment and automation of operation, Manage lean. The company focuses on the development of cold and hot rolled thin plates, heavy and thick plates, seamless steel pipes of various sizes, and fine wire products.
At present, it has formed a production line of plate, pipe and line products with advanced equipment at home and abroad. Hualing Xiangtan Iron and Steel is the world's largest heavy plate manufacturing base, Hualing Lianyuan Iron and Steel has the world's advanced level of thin slab casting and rolling production line (CSP) and supporting the cold rolling and coating processing production line, Hualingheng steel in the absence of Seam steel industry manufacturing strength ranked fifth in the world, China second, Valin ArcelorMittal Auto Plate Company (referred to as VAMA) is China's few can provide a full range of automotive steel products company, exclusive production USIBOR®1500, Ductibor ®500 and other high-end products. The reasonable division of labor and specialized production capacity of each subsidiary of Valin have laid a solid foundation for advanced manufacturing.
– Ranking: 20
– Steel products: wide and heavy steel plates, hot-rolled steel plates, cold-rolled steel plates, galvanized steel plates, steel wires, steel rods, steel pipes, steel strips, sections, steel slabs, copper plate pipes.
– Volume of steel production: 15.5 millions of tonnes.
China's 2016 cude steel capacity cut target
Benxi Steel Group – the cradle of China's iron and steel industry
Bengang Group Co., Ltd. was founded in 1905, is the earliest large-scale iron and steel enterprises resume production in China, known as "the cradle of China's iron and steel industry," "Republican meritorious enterprise." Benxi Iron and Steel is located in the central economic belt of Liaoning Province, has 80,000 employees, assets of 145 billion yuan, annual sales revenue over 100 billion yuan, crude steel production capacity of 20 million tons. It is one of the top ten iron and steel enterprises in China and the 20th largest iron and steel enterprise in the world.
They are the largest provincial state-owned enterprise group in Liaoning Province, China's top 500 enterprises. It is a large iron and steel conglomerate based on steel industry and cooperating with diversified industries such as financial investment, trade and logistics, equipment manufacturing, industrial services and urban services, and the world famous "Ginseng Iron".
Bengang boasts abundant mineral resources and world-class technology and equipment. The products are widely used in the fields of automobile, household appliance, petroleum, chemical industry, aerospace, machinery manufacturing, energy transportation, construction and decoration and metal products, and exported to the United States, EU, Japan, South Korea, etc. More than 80 countries and regions, the total exports for many years ranked the forefront of the national steel industry. With the most extensive, the highest strength automotive cold-rolled plates and the highest strength automotive galvanized sheet production capacity and vehicle availability.
Benxi Iron and Steel has a national technology center and testing center, built a national academician expert workstations, postdoctoral research station, advanced automotive steel research and development and application of national joint engineering laboratories and other R & D platform, set up a car plate, high strength steel, silicon steel, Wire rod, stainless steel and other professional research institutions in the automotive board, appliance boards, oil pipeline steel, container steel and other product research and development in the leading domestic level. It is the "Model Enterprise of National Technology Innovation" and "Top 100 Enterprises for Brand Competitiveness of Chinese Industrial Enterprises" approved by the State Ministry of Industry and Information Technology.
– Ranking: 22
– Steel products: Hot rolled steel products, Cold-rolled steel products, Special steel products, High speed wire steel products, Stainless steel products, Casting steel products.
– Volume of steel production: 14.4 millions of tonnes.
Rizhao Steel – the steel supplier following quality-oriented principles
Rizhao Steel is located at Lanshan District, Rizhao City.Established in 2003, Rizhao Steel has become an integrated enterprise group with a combination of sintering, pellet, iron-making, steel-making, rolling, oxygen-making, power generating, and well-equipped facilities. Up to now, Rizhao Steel has reached an annual production capacity of 15 million tons of steel, and the production of HRC, de-bar, wire rod, and beam  has taken shape. Besides the main production, Rizhao Steel realizes an annual output of 5 million tons of cement and 1.2 million tons of steel slag powder, 4.8 million tons of grain slag powder and 3.2 billion KWH power generation through developing the recycling economy.
In 2012, it ranked no. 28 among "Top 500 Chinese Private Enterprises" and no. 20 among "Top 500 Chinese Private Manufacturing Enterprises" and won many honorary titles such as "Top 100 Chinese Creditable Enterprises in 2012". The company maintained excellent profitable momentum for eight consecutive years. Rizhao Steel has almost 30000 pcs/sets of detective devices/equipment  related to the process of quality, measurement, safety and environment control and has introduced many state-of-the-art detective instruments from Germany, Japan, and Switzerland such as a large X-ray fluorescence spectroscope,  an Infrared Carbon-Sulfur Determinator, Direct Reading spectrometers , a high-power microscope, a scanning electronic microscope, and an Oxygen and nitrogen, hydrogen analyzer. Achieved to  the test and inspection for all billets and steel products in the scope of chemical compositions, mechanical properties, metallurgical structures and surface conditions, which guarantee the size precision, stable property and reliable quality of the products.
Adhering to the strategic deployment of new industrialization road , Rizhao Steel follows quality-oriented principles , tries to build a rigorous and perfect quality assurance system. Through the Performance Excellence Model of internationalization, it perfectly integrates the GB/T19001, GB/T24001 and GB/T28001 into an effective entirety. The company also has been awarded the certificates for ISO9000, ISO14000 and ISO18000. The ship building plates are approved by the classification societies of nine countries, including China, America, Britain and German. The hot rolled coil obtained  EU CE certificate and the deformed bar is certified by Korean KS.
– Ranking: 26
– Steel products: hot-dip galvanized steel pipes, spiral-welded steel pipes, cold-rolled steel strips, and sebacic acid
– Volume of steel production: 13.9 millions of tonnes.
Liaoning Fangda Group Industrial Co., Ltd. is engaged in the main businesses including carbon, iron & steel, chemical industries and medical services, and partly operates the industries such as mining, coking , real estate and so on. It has adhered to the enterprise guideline "responding to Party's call and following Party's instruction", integrated many state-owned enterprises, formed the trans-industry, cross-region and diversified large-sized enterprise group with strong international competitiveness by depending on its excellent social image, high social responsibilities, scientific and standardized management structure of the company and high-efficiency operation mechanism. The headquarters of Fangda Group is located in Beijing, the capital of China, and has over thirty companies including three companies. It has more than 50,000 employees, and its total capital has reached over 70 billion Yuan RMB,sales income is over 80 billion Yuan RMB.
Products manufactured and operated by Fangda Group are widely applied to many fields such as metallurgical industry, chemical industry, machinery manufacturing, engineering construction, medical appliances, aerospace and so on, which makes contribution to flourishing the national industry and the national modernization construction. Fangda Group realizes the full development of the industries such as carbon, iron & steel, and chemical industries etc. (the medical sector is being planned) according to the development strategy of "Four Sectors and Two Institutes". In order to create the industrial value chain, it has optimized the industrial layout, quickened scientific and technical innovation and has established the solid industrial foundations.
Fangda Group carries out the strategy of "going global" firmly, cooperates and communicates with famous international enterprises, absorbs and brings in foreign advanced management concepts and technologies, and promotes the development process of its globalization. They insists on the enterprise spirit of "People Oriented and Integrity First", and develops the "win-win" and "multi-win" cooperation with enterprises at home and abroad under the enterprise values "Three Favorables" and in the principle of "Three Consolidations".
– Ranking: 27
– Steel products: High-Speed Wire and Steel Coils, Screw-Threaded Steel, Round steel, Angle Steel.
– Volume of steel production: 13.7 millions of tonnes.
Baotou Steel – a competitive steel supplier in China
BaoTou Steel Group Electric Co. Ltd was founded in 1958. The company combines design, mamufactuing, overhaul, install, debug. During more than 50 years of arduous and tortuous, the company has complete industrial categories,the best technology research and development capabilities, the highest service level. And it has become a large comprehensive Electric Co. Ltd which with strong competitiveness.
The currrent staff number is 622 in the company, all kinds of professional technicians are 25% of total employees, of which,25 are master degree or above, 18 are senior engineers, 12 are senior technicians, 68 are engineers, 32 are technicians. The total assets of the company is 180 million, it covers 128 mu. The company has 4 advanced metal procedding equipments which made in Japan, 1 ShenKe dynamic balancing machines made in Germany, 1 large laser processing equipment, 6 large heat fan and vacuum driers, 1 vacuum dip painting installation and more than 80 equipments of parts processing, integral forming, surface treatment. The company has large test and inspection equipment, the capacity of test equipment is above 5000KVA.
The company obtained the ISO9001Quality, ISO14OO1Environment, OHSAS18001 the occupational healthy and safety management system certification certified by British Laoshi international authentication company in 2003, and we are the first company of all the metallurgical steel enterprise in Inner Mongolia autonomous region and even in China which obtained the certificate. Our company has received certification of the power grid construction and transformation of the products and company in both urban and rural areas, approved by the State Economic and Trade Commissiom.
– Ranking: 30
– Steel products: plates, seamless metal tubes, heavy tubes, square steel, wire rods, steel pipes, steel scraps
– Volume of steel production: 12.3 millions of tonnes.
China's crude steel production forecast
Liuzhou Iron and Steel – "Grade A Competitive Steel Enterprise"
Liuzhou Iron and Steel Group Co., Ltd., an important producer of Chinese steel industry, is located in Beicheng District, Liuzhou. After 60 years of development, it has 15,000 employees and covers an area of 13 square kilometers, with total assets of 40 billion yuan, with a comprehensive iron production of 12 million tons, 15 million tons of steel, 21 million tons of steel capacity is based on steel industry, diversified operations in South China and Southwest China The largest and most advanced steel complex in the region ranks among the top 500 Chinese companies. Liuzhou Iron & Steel was appraised as "Grade A Competitive Steel Enterprise" in the 2016 Iron and Steel Enterprises Competitiveness Rating Results released by China Metallurgical Industry Planning and Research Institute, ranking the 9th in 111 participating steel enterprises. In the global list of the top 50 steel companies ranked 32.
It has 360 quare meters sintering machine, 6m coke, 1550mm and 1250mm cold-rolled strip production line, 2032mm and 1450mm hot strip production line, 2800mm plate production lines, and high-speed wire rod rolling Timber production line, a series of advanced production lines and other advanced technology and equipment, integrated with user needs-oriented low-cost, high efficiency, clean steel production service platform. The main products of Liuzhou Iron and Steel Co., Ltd. are cold-rolled coil, hot-rolled coil, plate, ribbed steel bar, high speed wire rod, round bar, medium profile, etc. It has formed more than 60 series and more than 500 varieties. Among them, cold-rolled mild steel strip, hot-rolled steel strip and strip for container, hot rolled steel plate of carbon structural steel and low alloy structural steel, structural steel for ship, hot-rolled ribbed steel bar for reinforced concrete, Rolled steel bars and other series of products won the "National Gold Medal Gold Medal Products Quality Award" "metallurgical industry quality products" "National Customer Satisfaction Products" and other honorary titles.
Marine structural steel has passed the factories accreditation of China, Germany, Britain, France, Norway, Japan, the United States, South Korea eight national classification societies. Liuzhou Iron and steel products based on Guangdong and Guangxi, radiation East China, Central China, Southwest and other domestic markets and exports in East Asia, South Asia, Europe, America, Africa and more than 10 countries and regions. Products are widely used in automobiles, home appliances, petrochemicals, machinery manufacturing, energy transportation, shipping, bridge construction, metal products, nuclear power, electronic instruments and other industries.
– Ranking: 32
– Steel products: steel plate, steel rebar, steel wire, steel channel, round steel, angle steel, die steel, and other products.
– Volume of steel production: 11.1 millions of tonnes.
Jinxi Iron and Steel – a potential steel supplier in China.
Jinxi Steel Pipe Xinjiang Co., Ltd. is a large-scale welded steel pipe enterprise invested by Liaoning Hongyun Group and Jinxi Steel Pipe Co., Ltd. with a total investment of 1 billion yuan in Kuitun, Xinjiang. The company is located in Kuitun-Dushanzi Economic and Technological Development Zone Area. Urumqi, leading to Central Asia. The company was founded in 1952 , is the earliest research and development of welded pipe in the professional manufacturing plant, the development so far, but also the formation of an annual output of 1 million tons of welded pipe manufacturing enterprises.
The company's leading products are steel structures required for a variety of steel pipe. They can also be coated, anti-corrosion insulation, deep well tube and other deep-processing projects. Production of steel products can also be used for urban infrastructure facilities construction, water supply and drainage network construction, centralized gas heating, urban lighting street lamp pole ; construction steel grid and production; highway divider piles, railway cable protection, agricultural Vehicle frame; underground mine support, tailings and mud transport and agricultural irrigation deep well and other industries.
– Ranking: 33
– Steel products: H-beam and zone steel products, and casting steel billets.
– Volume of steel production: 11.1 millions of tonnes.
Hebei Jingye Iron and Steel – a China steel supplier opening up the outside world
Jingye Group is a cross-industry group corporation, it takes steel as its main business and also engages in chemicals, hotel, real estate and trade. Now it has 22,500 workers and total assets of ¥27.2 billion Yuan. Jingye Group realized a sales revenue of ¥ 58.6 billion Yuan in 2016 and ranked the 234th in China Top 500 and the 8th in the Top 100 Enterprises of Hebei Province. It also takes the first place among the top 100 enterprises of Shijiazhuang City for 8 consecutive years. Jingye Group is the world's large rebar production base and the national model enterprise for high-strength steel. It has got the authentication of IS09001&ISO14001 successively . the trademark of Jingye is also identified as Chinese Well-known Trademark and value of 13.698 billion yuan.
As outcome of "opening up to Outside World", Hebei Jingye Group started to cooperate with Russian businessmen at early establishment. And it always sticks to external communication. its subordinate chemical plants have established cooperative relationship with Glaxo Smit Kline biologicals Co.,Ltd (the second largest pharmaceutical company in the world)and American Johnson Company. Also the purchase Department has been in cooperation with such international mining companies as BHP Billion,Tio Tinto,Valve of Brazil and FMG. Each item of product from Hebei Jingye Group has been granted ISO9001 Certificate, EU CE Certificate and Certificate of Classification by nine countries. The products are exported to more than 30 countries and regions.
– Ranking: 34
– Steel products: Deformed steel bar, Medium & Heavy steel plate, hot rolled steel coils.
– Volume of steel production: 11 millions of tonnes.
China's crude steel production in 2009 – 2017
Anyang Steel – an intensive and saving developing steel supplier
Angang Group was set up in 1958 and its original design capacity is 100,000 tons steel per year. After 30 years of reformation and opening-up, Angang has created sustainable earnings performance without loss and become modern ten million tons iron and steel group and entered into the top of steel enterprises .Angang's sale income firstly broke through 50 billion RMB and reached 51 billion in 2008.
In recent years, under the correct lead of Henan Province Government , Angang has quickly drafted and completed three- step strategy for structure adjustment based on earnestly carrying out scientific development concept and regarding rapid development as the first task. Angang has put the emphasis on changing development mode ,improving development quality and benefit and also finished process and product structure adjustment in three steps and realized the equipment large scale, process modernization and product specialization.
Under the instruction of scientific development concept, Angang has realized intensive and saving development and completed 10,000,000 tons steel comprehensive production power within insufficient 4.5 square kilometers old factory area while simultaneous producing ,innovating, disassembling and constructing. Steel amount per mu reaches 1480 ton and unit area availability coefficient ranks highly at home. Angang has explored a new path for the old state-owned enterprise to save the land, complete the structural adjustment and realize the industrial upgrading .
Angang has achieved sustainable development of energy-saving and emission reduction and built a large number of circular economy and energy-saving and emission reduction projects with 2.1 billion investment, thus speeding up the change toward resource-saving and environment-friendly enterprise. It has realized the leap and bound development for improving core competence, leading products has finished comprehensive upgrading in which from low grade product to top product and from construction steel market to manufacturing field.
– Ranking: 35
– Steel products: Plate steel products, coils steel products, strip steel products, wire steel products, bar steel products.
– Volume of steel production: 10.5 millions of tonnes.
Taiyuan Iron and Steel Group – steel king of green development
Taiyuan Iron & Steel (Group) Co., Ltd. (or TISCO in short) is a super iron and steel giant as well as an leading enterprise in global stainless steel industry, which operates iron ore mining, steel production, processing, distribution and trade. TISCO was founded in 1934. It has been developing special steel as its trend, where the first ladle of stainless steel, the first piece of hot-rolled silicon steel and the first bulk of electromagnetic pure iron in China were produced. Today, TISCO has full process stainless steel production lines of international first class, i.e. smelting ( with hot metal as raw material)—refining—continuous casting—hot rolling—cold rolling. Moreover, it has built its own S&T and innovation platform such as national level Technology Center, National Key Laboratory of advanced stainless steel materials and etc.
They has an annual capacity of 12 million tons (of which 4.5 million tons are stainless steel). It can produce various carbon steel and stainless steel series products. It has several product clusters like stainless steel, silicon steel and high strength high ductility series that feature higher performance, energy efficiency and longer service life, which helps TISCO a stainless steel supplier with the fullest range of grades and specifications of products worldwide.
TISCO insists on the strategy of "winning by new product". Some of its key products have been used in petroleum, chemical, shipbuilding, container, railway, automobile, urban light rail, power generation, "Shenzhou" series spacecrafts and other key sectors and emerging industries. Over 20 steel grades take biggest market share in China. More than 30 varieties have replaced the imported counterparts successfully, of which pen tip steel, high-Mn high-N stainless steel and AP1000 third generation extrusion C type stainless steel for nuclear power satisfied the urgent demands of the markets, contributing significantly to the domestication of key materials. They adheres to green concept. It is building a green development system of "six in one", i.e. green mine, green procurement, green logistics, green manufacturing, green products and green industry. A number of energy-saving and emission-reducing and circular economy projects have put into operation successfully.
– Ranking: 38
– Steel products:  cold-rolled steel coil/plate, hot-rolled steel coil/plate, hot-rolled medium steel plate, composite steel, steel rod, steel wire, seamless steel tube, welding steel tube, precise steel strip, heavy casting steel and etc
– Volume of steel production: 10.3 millions of tonnes.
Best steel suppliers in Japan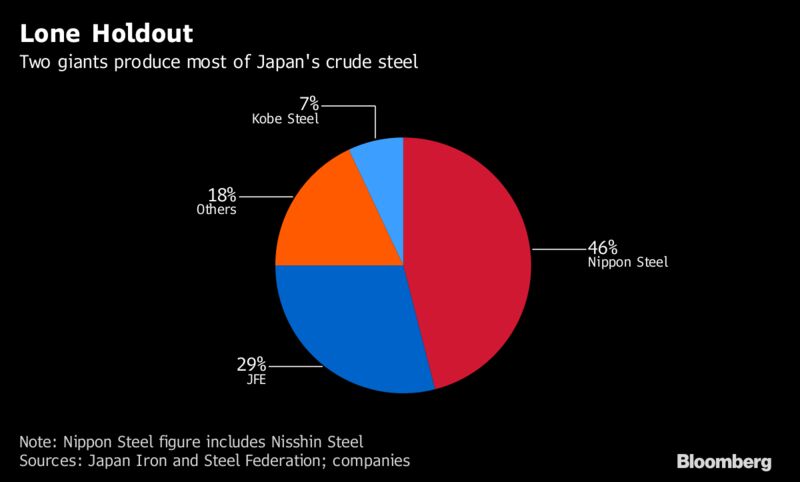 Steel industry in Japan
Nippon Steel & Sumitomo Metal – steel king of Japan
Nippon Steel & Sumitomo Metal Corporation was formed in 2012 with the merger of Nippon Steel and Sumitomo Metal. NSSMC aims at building a global and optimal production system, based on high technological capabilities, and at globally expanding business by taking advantage of our competitiveness in products and costs. By focusing on technology, cost, and being global, their three strategic areas are automotive, energy/resources, and infrastructure-related. They intend to expand shares mainly in the high end of those markets with medium to long-term growth potential.
At present, NSSMC produces approximately 50 million tons of crude steel per year. Since the integration in 2012 of Nippon Steel and Sumitomo Metals to form NSSMC, they have consolidated facilities but have maintained production capacity by raising productivity by deploying our technological capability and at the same time have enhanced cost competitiveness. The present status of their improvement of production facilities is to complete changes that include, in particular, consolidation of 14 blast furnaces to 12, 32 converters to 28, and continuous casting facilities from 30 units to 27 from the integration in 2012 to the end of 2020.
The current Mid-Term Management Plan, which ends in fiscal 2017, emphasizes growth of both domestic businesses and overseas businesses functioning as the two halves of the whole, as the basic strategy. This means that Nippon seek to enhance competitiveness of domestic manufacturing steel mills as "mother mills," which are the source of their competitiveness such as through technological superiority, and to expand the profit of overseas bases by taking advantages of the strength nourished in Japan.
– Ranking: 4
– Steel products: Steel, flat steel products, long steel products, wire steel products, steel plates.
– Volume of steel production: 46.2 millions of tonnes.
JFE – a steel supplier with high global competitiveness
JFE Holdings, Inc. is a corporation headquartered in Tokyo, Japan. It was formed in 2002 by the merger of NKK (Nippon Kōkan Kabushiki Kaisha) and Kawasaki Steel Corporation (Kawasaki Seitetsu Kabushiki-gaisha). At the time, NKK Corporation was Japan's second largest steelmaker and Kawasaki Steel was the third largest steelmaker. Both companies were major military vessel manufacturers during World War II.
JFE's main business is steel production. It also engages in engineering, ship building, real-estate redevelopment, and LSi business. The company also operates several overseas subsidiaries, including California Steel Industries in the United States, Fujian Sino-Japan Metal in China, and Minas da Serra Geral in Brazil.
JFE Holdings is the fifth largest steel maker in the world with revenue in excess of US$30 billion. The JFE Group is determined to achieve the highest standards of global competitiveness by capitalizing on its strong customer base, advanced technology and state-of-the-art steelworks and manufacturing plants, while creating an innovative corporate culture with a challenging spirit. Specific objectives include: Respond to global customer needs better and faster, Enhance credibility among shareholders and capital markets worldwide, Provide employees with more challenge and opportunities, Contribute to local communities and global environmental conservation.
– Ranking: 8
– Steel products: Steel, flat steel products, long steel products, wire steel products, steel plates.
– Volume of steel production: 30.3 millions of tonnes.
Aichi Steel Corporation – the only steel supplier of Toyota
Aichi Steel was founded by Kiichiro Toyoda in 1940 with his passion that "Great cars are made with great steel". Since then, as the only material manufacturer of the Toyota Automotive Group, they have consistently provided high quality materials. Even today, their inherit the vision of research and creativity, and have evolved the mission from "Great cars are made with great steel" to "A great society comes from great materials", providing a wide range of materials to the world beyond specialty steel and forgings that contribute to many products used in our daily lives, starting with automotive and covering industrial machinery, construction, IT, electronics, medical and agricultural fields.
Many latent risks surround us such as the rapidly changing financial environment of the global stage and the powerful impact of natural phenomena. Standing against these challenges they lay a firm financial foundation, uncover new business potential that prepare them for worldwide changes and seek to grow to even higher heights. Their material recycling production processes take scrap metals and create new products in the form of specialty steel and forgings and contribute to society.
They fulfil their societal responsibility to be a company that is needed by the wider public with their "1S Culture" (Seiso (Cleanliness) 1st, Shojiki (Sincerity) 1st, and Safety 1st). Their desire is to contribute to the pursuit of a prosperous future and the implementation of a sustainable society and earth through creating unique technologies as part of healthy corporate activities so that people will say of us that "Using Aichi Steel Group's products makes us feel safe and secure around the world".
– Steel products: carbon steels, alloy steel, H-shaped steel, boron steel, spring steel, microalloyed steel, high carbon chrome bearing steel, stainless steel, tool steel.
– Volume of steel production: 970 thousands of tonnes.
Japan Steel Works – one of only five steel suppliers worldwide of the largest single-piece components
Japan Steel Works was set up with investment from British firms Vickers, Armstrong Whitworth and Mitsui. During World War II, they manufactured what was then the world's largest gun barrel to be fitted on the battleship Yamato. Japan Steel Works' industrial processes which are used to purify steel are held to high standards. These include the use of argon gas to eliminate impurities, and the addition of manganese, chromium and nickel to make the steel harder.
Japan Steel Works' services are in great demand owing to its role as one of only five manufacturers worldwide of the largest single-piece components of pressure vessels for nuclear reactors at the company's factory, which is located on the island of Hokkaidō. The other manufacturers as of 2010 are two companies in China, one in Russia and one in France. However, Japan Steel Works is the only one that can make cores in a single piece without welds, which reduces risk from radiation leakage.
The company has boosted production to 6 units per year from 4 previously of the steel pressure vessel forgings, which contain the nuclear reactor core. It is scheduled to take capacity to 11 by 2013. Due to the production bottleneck, utilities across the world are submitting orders years in advance of any actual need, along with deposits worth hundreds of millions of dollars. Other manufacturers are examining various options, including finding ways to make a similar item using alternate methods, or making the component themselves with welds. However, welds are weak points which can result in reactor leakage.
– Steel products: Clad steel plates and pipes, high alloy steel, stainless steel, rolls for Plate  Mills, steel castings and forgings
– Volume of steel production: updating
Kobe Steel – a long-standing steel supplier in Japan
Kobe Steel, Ltd. (Kabushiki-gaisha Kōbe Seikō-sho), operating worldwide under the brand Kobelco, is a major Japanese steel manufacturer headquartered in Chūō-ku, Kobe. Kobe Steel also has a stake in Osaka Titanium Technologies. The company supplies about half of the global market of the wires used in valve springs of auto engines .It was formed on September 1, 1905. Its location in a major city port was useful for importing and exporting iron ore and coal. It is one of Kobe's oldest industrial companies.
The company is listed on the Tokyo and Nagoya Stock Exchange, on the Osaka Securities Exchange and is a constituent of the Nikkei 225 stock index. As of March 31, 2014, the company had 208 subsidiary and 62 affiliated companies across Japan, Asia, Europe, the Middle East and the US.
Kobe Steel, Ltd. is one of Japan's leading steelmakers, as well as a major supplier of aluminum and copper products. Other business segments consist of wholesale power supply, machinery, construction machinery, real estate, and electronic materials and other businesses. The Kobe Steel Group is comprised of numerous consolidated and equity-valued companies in Japan, the Americas, Asia and Europe. KOBELCO is the corporate logo mark and brand name of the Kobe Steel Group. Behind the KOBELCO mark is Kobe Steel's commitment to excellence and quality.
– Steel products: ordinary wire rod, specialty steel wire rod, specialty steel wire, ordinary steel bar, specialty steel bar, heavy plate, medium plate and sheet (hot-rolled, coldrolled, surface treated),   stainless steel tube, specialty steel products.
– Volume of steel production: updating
Nippon Steel from Japan used to be the leader of global steel industry in the past (1970 – 2000)
Mitsui & Co. – a green developing steel supplier
Mitsui & Co. has evolved by building and growing new businesses throughout constantly changing times. We are proud when business partners and others who know us say, "Mitsui is people", because they are recognizing the diverse Mitsui professionals that have individually and collectively created new value around the world.
Shifts of globalization, increasing consumer power and relentless digitalization continue to drive rapid change. To continue our evolution, we must reflect these changes in Mitsui's strategy, but to truly prosper we need to be our own architects of change—setting the agenda and playing a central role in new business development.
This key idea is captured in the title of Mitsui & Co.'s new Medium-term Management Plan for 2020: Driving Value Creation. With 43,000 group colleagues and a comprehensive global network, we are united in our commitment to sustainably creating the added value expected of us by our stakeholders around the world.
As economic globalization progresses and the increasing world population strains our energy, food, water, and other resources, there is growing demand for infrastructure such as power generation, transportation and telecommunications, along with fundamental community services such as education and health care. At the same time, we face environmental and human rights issues on a global scale with respect to climate change, loss of biodiversity, immigration and other highly consequential matters.
– Steel products: Steel Plates and Pipes, Steel Sheet, Flat Steel Products, Stainless & Special Steel Unit, Steel Wire Rods, Automotive Business Steel.
– Volume of steel production: updating
Nisshin Steel – a unique steel supplier speacialized in light-gauge materials
Nisshin Stee is one of world's leading manufacturers of coated steel, special steel, stainless steel, hot- and cold-rolled ordinary steel as well as roofing and siding. In April 1959, the Company made a new start, with Nihon Teppan Corporation and Nichia Steel Works, Ltd., merging to form NISSHIN STEEL Co., Ltd. In 1962, the company constructed a blast furnace, emerging as an integrated steelmaker. Furthermore, the company developed a unique industry position as a manufacturer specialized in light-gauge materials, including surface-treated products and stainless steel sheets.
In 1986, they established Wheeling-Nisshin, Inc., a joint venture for the manufacture of aluminumized and galvanizedl steel sheets, in the U.S. state of West Virginia. Since its start of commercial operations in 1988, the venture's production and sales volumes have risen steadily, with cumulative production reaching 10 million tons in January 2006. In 2013, they plan to commence production of ZAM® highly corrosion-resistant hot-dip coated steel sheets at the venture.
In the stainless steel business, they have forged a global supply system through cooperation with Acerinox, a world leader based in Spain with which they have closely collaborated since their establishment. Recent developments between them include the founding of Bahru Stainless SDN. BHD, a cold-rolled stainless steel joint venture in Malaysia,. This company began commercial production in 2011 and is currently moving forward with construction that will further expand its operations.
– Steel products: Coated Steel, Stainless Steel, Special Steel, Hot and cold-rolled Ordinary Steel.
– Volume of steel production: updating.
Best steel suppliers in India
India is exporting steel of more than 7.6 million tonnes of steel
Tata Steel –  the world's second-most geographically diversified steel supplier
Tata Steel Limited is an Indian multinational steel-making company headquartered in Mumbai, Maharashtra, India, and a subsidiary of the Tata Group. It is one of the top steel producing companies globally with annual crude steel deliveries of 27.5 million tonnes (in FY17), and the second largest steel company in India (measured by domestic production) with an annual capacity of 13 million tonnes after SAIL.
Tata Steel has manufacturing operations in 26 countries, including Australia, China, India, the Netherlands, Singapore, Thailand and the United Kingdom, and employs around 80,500 people. Its largest plant located in Jamshedpur, Jharkhand. In 2007 Tata Steel acquired the UK-based steel maker Corus. It was ranked 486th in the 2014 Fortune Global 500 ranking of the world's biggest corporations. It was the seventh most valuable Indian brand of 2013 as per Brand Finance.
Tata Steel is the second largest steel supplier in Europe with a crude steel production capacity of over 12.1 MnTPA. They established their presence in the European continent after acquiring Corus in 2007. The manufacturing facilities in Europe comprise hubs (Strip Products Mainland Europe, Strip Products UK and Downstream Operations) and integrated businesses (Plating and Cogent Power). Tata Steel has two integrated (blast furnace-based) steel-making sites in Ijmuiden, the Netherlands and Port Talbot, South Wales respectively. Other facilities across Europe produce a variety of special steels, ultra-pure re-melted steels and various rolling and coating lines.
Tata Steel has set a target of achieving an annual production capacity of 100 million tons by 2015; it is planning for capacity expansion to be balanced roughly 50:50 between greenfield developments and acquisitions. Overseas acquisitions have already added an additional 21.4 million tonnes of capacity, including Corus (18.2 million tonnes), NatSteel (2 million tonnes) and Millennium Steel (1.2 million tonnes). Tata plans to add another 29 million tonnes of capacity through acquisitions.
– Ranking: 10
– Steel products: flat steel products, long steel products, steel wire products, plates
– Volume of steel production: 24.5 millions of tonnes.
Steel Authority of India Limited – one of the largest state-owned steel suppliers in India
Steel Authority of India Limited (SAIL) is one of the largest state-owned steel making company based in New Delhi, India and one of the top steel makers in world,headed by Shri P K Singh . With an annual turnover of ₹44,452.41 Crores (FY 2016-17). It is a public sector undertaking which trades publicly in the market is largely owned by Government of India and acts like an operating company.
Incorporated on 24 January 1973, SAIL has 78,333 employees (as of 01-Jan-2018). With an annual production of 13.9 million metric tons, SAIL is the 24th largest steel supplier in the world. The Hot Metal capacity of the Company will further increase and is expected to reach a level of 23.5 million tonnes per annum by the end of the Financial Year 2015-16. Shri P.K Singh is the current Chairman of SAIL.
SAIL operates and owns 5 integrated steel plants at Bhilai, Rourkela, Durgapur, Bokaro and Burnpur (Asansol) and 3 special steel plants at Salem, Durgapur and Bhadravathi. It also owns a Ferro Alloy plant at Chandrapur. As a part of its global ambition, the company is undergoing a massive expansion and modernisation programme involving upgrading and building new facilities with emphasis on state of the art green technology.
SAIL is a public sector company, owned and operated by the Government of India. According to a recent survey, SAIL is one of India's fastest growing Public Sector Units. Besides, it has R&D centre for Iron & Steel (RDCIS), Centre for Engineering and Technology (CET), Management Training Institute (MTI) and SAIL Safety Organisation (SSO) located at Ranchi capital of Jharkhand.
– Ranking: 23
– Steel products: semis, structurals, bars, rods & rebars, hot-rolled products, plates, cold-rolled products, galvanised steel, pipe, electrical steel & tin plates, railway products, alloy, stanless & other special products.
– Volume of steel production: 14.4 millions of tonnes.
Essar Steel – India's largest exporter of flat steel
Essar Steel is a global producer of steel with presence in Asia, Europe, Africa and North America. It has an annual capacity of 14 million tonnes. The product includes pipes, plates cold rolling, galvanizing and pre-coated segments.
It is India's largest exporter of flat steel with 10 million tons per annum (MTPA) of capacity in India and 4 million tons per annum (MTPA) in worldwide facility. Essar Steel is fully integrated from mining to retail and has specialised plants for value-added steel products like pipes and plates. On 11 June 2012, Essar Steel India commissioned a 19 MW heat recovery power plant at Hazira.
In 2016, Essar Steel became the first Indian company to manufacture bullet-proof steel.
Essar Minerals owns iron ore and coal mines in India, Indonesia, Mozambique and the USA, as well as undeveloped iron ore properties in Canada. The company has access to over 2.0 billion tonnes of iron ore reserves in India and USA and 450 million tonnes of coal reserves.
– Steel products: hot-rolled steel, cold-rolled steel, galvanised steel, colour coated steel, steel plates, steel pipes, factory welded beams
– Volume of steel production: 14 millions of tonnes.
India is predicted to overtake Japan in the near future
Jindal Steel and Power – the steel supplier rated as the second highest value creator
Jindal Steel and Power Limited (JSPL) is an Indian steel and energy company based on New Delhi, India. With turnover of approx. US$ 3.3 billion, JSPL is a part of about US$18 billion diversified Jindal Groupconglomerate. JSPL is a leading player in steel, power, mining, oil and gas and infrastructure in India. The company produces steel and power through backward integration from its own captive coal and iron-ore mines. In terms of tonnage, it is the third largest steel supplier in India. The company manufactures and sells sponge iron, mild steel slabs, ferro chrome, iron ore, mild steel, structural, hot rolled plates and coils.
From the widest flat products to a whole range of long products, JSPL today sports a product portfolio that caters to markets across the steel value chain. The company produces the world's longest (121-meter) rails and it is the first in the country to manufacture large-size parallel flange beams. JSPL operates the largest coal-based sponge iron plant in the world and has an installed capacity of 3 MTPA (million tonnes per annum) of steel at Raigarh in Chhattisgarh. Also, it has set up a 0.6 MTPA wire rod mill and a 1 MTPA capacity bar mill at Patratu, Jharkhand, a medium and light structural mill at Raigarh, Chhattisgarh and a 2.5 MTPA steel melting shop and a plate mill to produce up to 5.00-meter-wide plates at Angul, Odisha.
An enterprising spirit and the ability to discern future trends have been the driving force behind the company's remarkable growth story. The organisation is wedded to ideals like innovation and technological leadership and is backed by a highly driven and dedicated workforce of 15000 people. JSPL has been rated as the second highest value creator in the world by the Boston Consulting Group, the 11th fastest growing company in India by Business World and has figured in the Forbes Asia list of Fab 50 companies. It has also been named among the Best Blue Chip companies and rated as the Highest Wealth Creator by the Dalal Street Journal. Dun & Bradstreet has ranked it 4th in its list of companies that generated the highest total income in the iron and steel sector.
– Steel products: rails, steel plates and coils, wire rods, semi-finished products,
– Volume of steel production: updating.
Mahindra Ugine Steel – the first steel supplier in India to receive an ISO 9001:2000 certificate
Mahindra Ugine Steel (MUSCO) is a manufacturer of specialty steel, stampings, and rings headquartered in Mumbai, India. It is a subsidiary of the Mahindra Group, one of India's largest industrial houses.
MUSCO has three stampings facilities located near key automotive clusters in India: Kanhe to serve the manufacturing cluster in Pune; Nashik; and Rudrapur to serve Northern India. Together, MUSCO has a total stampings capacity of 30,000 metric tons per year. Its ring rolling division also has a total capacity of 30,000 metric tons. It was the first steel company in India to receive an ISO 9001:2000 Certificate in 2002 and in 2005, it received ISO TS 16949 certification.
Mahindra Ugine Steel Company Limited manufactures different varieties of steel including mild, tool, alloy and special grades of steel. The Company also has a stampings division that manufactures products for the automotive industry. Mahindra Ugine Steel Company is also engaged in property development.
– Steel products: mild, tool, alloy and special grades of steel.
– Volume of steel production: updating.
Vizag Steel – the best steel company to work in India
Vizag Steel is an integrated steel supplier in Visakhapatnam, India built using German and Soviet technology. The company has grown from a loss-making industry to 3-billion-dollar turnover company registering a growth of 203.6% in just four years. Vizag Steel Plant was conferred Navratna status on 17 November 2010. Founded in 1971, the company focuses on producing value-added steel, with 214,000 tonnes produced in August 2010, out of 252,000 tonnes total of salable steel produced. It is the largest single site plant in India and Asia minor (or south and east Asia combined).
Vizag Steel Plant is the only Indian shore-based steel plant and is situated on 33,000 acres (13,000 ha), and is poised to expand to produce up to 20 MT in a single campus. Turnover in 2011-2012 was Rs 14,457 crores. On 20 May 2009, Prime Minister Manmohan Singh launched the expansion project of Visakhapatnam Steel Plant from a capacity of 3.6 MT to 6.3 MT at a cost of Rs. 8,692 crores.
The expansion project is expected to become functional by 2012. It has been rated "the best place to work in India" for consecutive five years.
– Steel products: Plain rounds, re-bars, squares, flats, billets, plain wire rods In Coils I, Plain Wire Rods In Coils II
– Volume of steel production: updating.
Best steel suppliers in Russia
Major exporting countries of steel in 2016
Novolipetsk Steel –  biggest steel supplier in Russia
Novolipetsk Steel, or NLMK, is one of the four largest steel companies in Russia. NLMK's share of domestic crude steel production is about 21%. It primary produces flat steel products, semi-finished steel products and electrical steels. NLMK also produces specialty coated steels, plus high-ductility and micro-alloyed steels. Currently Novolipetsk Steel (NLMK) located in Lipetsk is one of the world's most profitable steel companies per tonne of production and by far the most profitable steel-making company in Russia, with an EBITDA margin of $2,28 bln (-3%). Company's revenue (US GAAP) in 2013 is $10,909 bln, net profit — $189 mln.
NLMK's assets are technically advanced and on par with its global peers. NLMK is fully self-sufficient in iron-ore through its 97% stake in Stoilensky GOK, Russia's 3rd-largest iron ore producer. On December 15, 2005, the company listed 42 million (8.3% of the total number of shares) of its Global Depositary Shares (GDSs) on the London Stock Exchange. Each GDS represents 10 ordinary shares.
In June 2006 NLMK altered its dividend policy and increased its target payout ratio from 15% to 20% of its net income under US GAAP. The company pursues the goal of bringing its total dividends over a five-year period to 30%.
– Ranking: 16
– Steel products: Flat steel, prepainted steel, electric steel, long steel, heavy steel plates.
– Volume of steel production: 16.6 millions of tonnes.
Evraz – top steel supplier based on crude steel
EVRAZ was founded in 1992, is a vertically integrated steel, mining and vanadium business with operations in the Russian Federation, Ukraine, USA, Canada, Czech Republic, Italy and Kazakhstan. EVRAZ is among the top steel suppliers in the world based on crude steel production of 13.5 million tonnes in 2016. A significant portion of the company's internal consumption of iron ore and coking coal is covered by its mining operations. The Group is listed on the London Stock Exchange and is a constituent of the FTSE 100.
EVRAZ employs approximately 80 000 people. The company's consolidated revenues for the year ended 31 December 2016 were US$7,713 million, and consolidated EBITDA amounted to US$1,542  million. Their operating income was US$463 million and net income was US$188 million in 2016.
It has operations mainly in Russia, but also in Ukraine, Kazakhstan, Italy, Czech Republic, the United States, Canada and South Africa. It is listed on the London Stock Exchange and is a constituent of the FTSE 100 Index.
– Ranking: 28
– Steel products: railway products, construction products, industrial products, steel pipes.
– Volume of steel production: 13.5 millions of tonnes.
Magnitogorsk Iron and Steel Works – the supplier of one fifth of steel products sold on the Russian market
MMK is one of the leading Russian metals companies. The company's operations in Russia include a large steel producing complex encompassing the entire production chain, from preparation of iron ore to downstream processing of rolled steel. MMK turns out a broad range of steel products with a predominant share of high-value-added products. In 2016 MMK Group produced 12,5 million tonnes of crude steel and 11,6 million tonnes of commercial steel products. MMK Group had sales in 2016 of USD 5,630 million and EBITDA of USD 1,956 million.
Magnitogorsk Iron and Steel Works produces one fifth of the steel products sold on the Russian market, and rank among the world's major steel suppliers. MMK's dynamic growth stems from continuing modernization of their production assets, adoption of the state-of-the-art technology, implementation of many promising projects and integration into the global economy.
With the mission is to produce and sell high-quality steel products that meet the customers' requirements, to achieve earning that place us among global leaders, and to implement reasonable social policies, their main strategic goal is to maintain long-term competitiveness in the global steel market.
– Ranking: 29
– Steel products: billets steel, long products, flat products, coated products, cold-formed sections, hot-rolled sections, shaped sections, steel pipes, slabs.
– Volume of steel production: 12.5 millions of tonnes.
The world's largest steel suppliers by revenue in 2016
Severstal – a steel supplier with absolute cost advantage
Severstal is a Russian company mainly operating in the steel and mining industry, headquartered in Cherepovets. Severstal is listed on the Moscow Exchange and LSE and is the largest steel company in Russia. The company is majority-owned and controlled by billionaire Alexey Mordashov.
Severstal owns major industrial facilities in Russia, Ukraine, Kazakhstan, France, and Italy, as well as in several African countries. The company also has mining assets, thus securing its supply of raw materials. Severstal's business model assumes a low debt level and absolute cost advantage compared with both local and global competitors due to the company's full vertical integration. Therefore the combination of well-targeted raw materials integration with highly efficient steel operations support increased profitability, free cash flow generation and a strong balance sheet.
Following the divestment of the Group's US-based operations in 2014, the Company now operates a highly efficient structure with its core assets in Russia. Severstal remains a global player with significant export opportunities given the quality and efficiency of our Russian operations as well as the advantageous location of our producing assets.
– Ranking: 31
– Steel products: Flat steel, long steel, steel plates, other steel products.
– Volume of steel production: 11.6 millions of tonnes.
Mechel – top steel supplier of specialty steels and alloys
Mechel, founded in 2003, has production facilities in 11 of Russia's regions, as well as in Ukraine and Lithuania. The business of Mechel's steel segment includes manufacturing of rolled products from carbon steel and specialty steels, flat stainless steel products, structural shapes, high value-added steel products, including hardware and stampings, as well as production of billets. Mechel is Russia's top producer of specialty steels and alloys with the widest product range, and is Russia's second largest rolled products manufacturer. Mechel is also Russia's leading producer of reinforcement and rolled wire.
One of Mechel's steel segment's competitive advantages is its significant share on the high value-added product markets, primarily specialty steels, stainless rolls and hardware, where on several counts we hold a leading place in Russia. This advantage is upheld by unique technologies, which are further developed to expand the product line and improve quality. Mechel's strong positions on the steel market are ensured due to the group's own expansive service and sales network.
In 2012 Chelyabinsk Metallurgical Plant launched the first line of its universal rolling mill – a complex producing quality steel, which will operate in the same production cycle as the mill itself. The mill's chief product will be new types of rails up to 100 meters in length, of high resistance to wear, contact endurance and reliability in low temperatures. The mill was fully launched in July 2013. It will enable Mechel to become Russia's chief supplier of long rails that would be up to every requirement of both Russian and foreign railways. This guarantees the company a significant share in all major infrastructure projects in the next several decades. The mill also produces various types of structural shapes.
Mechel's steel segment also includes the world-renowned Kaslinsky Plant of Art Casting, one of Russia's oldest plants, which preserves ancient traditions of art casting and architectural iron casting, and is known for unerringly high quality and a rich collection of models.
– Steel products: flat steel products, long steel products, wire steel
– Volume of steel production: updating
Metalloinvest – the fifth biggest steel supplier of Russian steel industry
Metalloinvest Management Company is a Russian mining and metallurgy company specializing in the manufacture of steel. It was founded in 1999 and is composed of a mining division (Lebedinsky GOK and Mikhailovsky GOK) and a steel division (Oskol Elektrometallurgical Plant and Ural Steel). USM Holdings owns 100% of Metalloinvest JSC. Alisher Usmanov is the major beneficiary of USM Holdings (48%), with other major beneficiaries — the companies of Vladimir Skoch and Farhad Moshiri — owning 30% and 10%, respectively.
The Company's Steel Segment comprises Oskol Electrometallurgical Plant, Ural Steel and Ural Scrap Company. These two plants are the leading steel suppliers of high quality steel products in Russia. The Company is one of the leading regional producers of steel, accounting for approximately 7% of total steel production in Russia. OEMK and Ural Steel together produce over 2,000 grades of steel. Metalloinvest is the fifth-largest steel supplier in Russia by volume.
The key types of commercial steel products are: high grade square billets, rolled products, and heavy plates. Heavy plate is fully sold in the domestic market. Long-rolled products and square billet are sold in Russia as well as CIS, Europe, MENA and Southeast Asia.
– Steel products: heavy plate steel, long steel products, square billets
– Volume of steel production: updating
Best steel suppliers in Korea
POSCO is the largest steel supplier in Korea
POSCO – the world's largest steel supplier by market value in 2010
POSCO is a multinational steel-making company headquartered in Pohang, South Korea. It had an output of 42 million tonnes of crude steel in 2015, making it the world's fourth-largest steelmaker by this measure. In 2010, it was the world's largest steel manufacturing company by market value. Also, in 2012, it was named as the 146th world's largest corporations by the Fortune global 500.
POSCO currently operates two integrated steel mills in South Korea, in Pohang and Gwangyang. In addition, POSCO operates a joint venture with U.S. Steel, USS-POSCO, which is located in Pittsburg, California, United States.
POSCO is evolving into a sound business structure for the future which combines existing businesses and new businesses from the steel-oriented business structure by expanding business areas from steel to non-steel, from manufacturing to service, and from traditional roots to the future. POSCO is retains key abilities as a developer of comprehensive materials by expanding the steel value chain that drives steel, resources, materials and chemicals, while capturing market opportunities by ensuring the foundation of related service businesses such as E&C, ICT and trade. In addition, POSCO will actively launch promising industries of the future, including the green growth projects, distribution, shipping and finance to complete its business portfolio for the future.
– Ranking: 5
– Steel products: hot-rolled steel, steel plate, wire rod, cold-rolled steel, galvanized steel, electrical galvanized steel, electrical steel, automotive materials, stainless steel
– Volume of steel production: 41.6 millions of tonnes.
Hyundai Steel – the world's second largest EAF steel supplier
Hyundai Steel Co., Ltd, or HSC (formerly known as Hyundai INI Steel, and before that, Incheon Iron & Steel Co., Ltd.) is a steel making company headquartered in Incheon and Seoul, South Korea, and a member of the Hyundai Motor Group. Established in 1953, it is the oldest steel making company in Korea.
Hyundai Steel is the world's second largest EAF steel supplier. Hyundai Steel produces a wide variety of products ranging from its high quality H-beams ,rail to reinforcing bars,Hot coil,cold rolled steel and stainless cold rolled sheet. Currently, Hyundai Steel operates six factories: in the Incheon, Dangjin, Pohang, Suncheon, Ulsan provinces of Korea and in China's Chungdo province.
As a steel mill specialized in automotive materials, Hyundai Steel is heavily engaged in the development of next generation steel for future automotive industry. Since the groundbreaking ceremony at the Dangjin integrated steel mill in October 2006, the first and second blast furnaces are commissioned in January and November 2010 in order. Then, the completion of blast furnace No. 3 in September 2013 enabled us to become a comprehensive global steelmaker with a total crude steel production capacity of 24 million tons including 12 million tons from blast furnaces and 12 million tons from electric arc furnaces. Furthermore, merging with cold rolling division of Hyundai Hysco in December 2013, we have now established the one-stop production system integrating all production processes from raw materials to finished products.
– Ranking: 13
– Steel products: hot-rolled steel, steel plate, wire rod, cold-rolled steel, automotive parts, stainless steel, ERW pipe, reinforcing bar, section, ingot for forging, heavy machinery, roll steel
– Volume of steel production: 20.1 millions of tonnes.
Dongkuk Steel – the spirit of masterpiece steel
Dongkuk Steel Mill Co, Ltd. is a steel company with its headquarters in the city of Seoul, South Korea. Its manufacturing plants are located in Pohang, Incheon, Dangjin and Busan. Main products are steel plates mainly for shipbuilding, beams, sections and bars mainly for construction. Dongkuk Steel mill is world's forty-ninth largest steel maker among IISI member companies(2009).
Dongkuk Steel's craftsmanship – 'producing masterpiece steel' – is the biggest motivation that drives the company to manufacture high-value products. The R&D Center established in 2005 is the heart of research and development of Korea's steel plates, sections, and reinforcing bars. The Dangjin works operating since 2010 is the advanced base for top quality steel plate production. The eco-friendly Incheon Works has started the operation of the Eco-Arc electric furnace in 2010, and a top of the line high tech rolling mill in 2012 to produce top quality reinforcement bars. Dongkuk Steel is producing best quality products at each of these sites.
In 1965, Dongkuk Steel has as the first Korean private enterprise, started the operation of a blast furnace. Dongkuk Steel is also the first enterprise that installed an electric arc furnace (1966), and a DC electricare furnace (1998) in Korea.
– Steel products: steel plates, cold-rolled steel sheet, reinforcing bar, sections, pre-coated metal, manufacturing process, galvanized steel sheet
– Volume of steel production: updating
Asian steel industry is taking over the world in recent years
In conclusion, Asian steel suppliers are becoming stronger and stronger than ever thanks to their competitive products price, modern technology and large production capacity. In the near future, China is predicted to remain the leader position in the industry, followed by Japan, Russia, Korean and India.